Rotherham Hospital
Rotherham Hospital first opened on 6 March 1978. It is our main site with 370+ beds providing a range of hospital based medical, surgical, paediatric and obstetric & gynaecological services.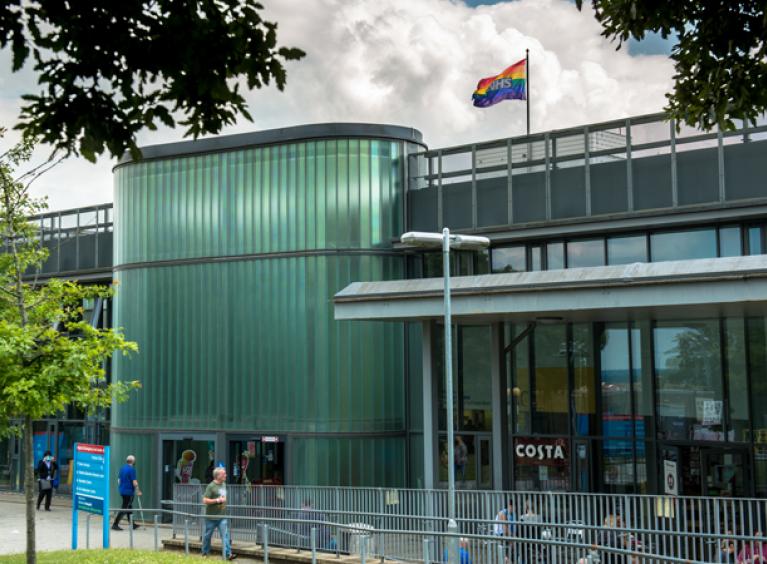 The clinical services are supported by comprehensive pathology, medical physics and imaging services, including state of the art MRI and CT facilities.
Our Medical Education Centre has tutorial rooms and a lecture theatre. The Medical Library and information systems are widely acclaimed.
The Rotherham Hospital site also acts as a base for:
Post and Undergraduate Education for Sheffield University
Rotherham Metropolitan Borough Council hospital-based Social Services
Renal Unit, managed by Sheffield Teaching Hospitals NHS Foundation Trust 
Busy Bees Day Nursery 
Address
Rotherham Hospital
Moorgate Road
Rotherham
S60 2UD
Switchboard: 01709 820000
 
Parking at the hospital
Parking
There are car parks near each main entrance to the Hospital. Car parking signage is clearly displayed showing how to pay, and where you can park.
If you are visiting Rotherham Hospital for an appointment, please allow extra time for parking. There are a large number of spaces, however they can fill quickly depending on which day of the week you visit, and the time you arrive. If it is safe for you to do so, please consider alternative means of transport to the hospital.
Our parking facilities include a waiting bay, where visitors can be dropped off or picked up. The drop off / pick up bay has a limit of 10 minutes waiting time, which is free of charge. You will still need to press for a ticket when you enter through the car park barriers, but if you exit the car park within 30 minutes of entering, you will not be charged.
Parking fares and concessions
| Length of stay | Cost |
| --- | --- |
| Up to 30 minutes | Free |
| 30 minutes – 1 hour | £2.10 |
| 1 – 2 hours | £3.20 |
| 2 – 4 hours | £4.60 |
| 4 – 6 hours | £5.70 |
| 6 – 24 hours | £7.00 |
| Blue Badge Holders | Free |
Concessions are available for Macmillan patients, those attending frequent outpatient appointments, parents staying overnight with their children on a ward, and family members or carers who have a relative/dependent in the Hospital for a period longer than 7 days. If you qualify for a concession, please ask ward/clinic staff for a concessions form to confirm that you are eligible.
If you are eligible for the NHS Low Income Scheme, advice regarding paying for parking and travelling to and from appointments can be found here. 
Blue Badge Holders
Parking is free for Blue Badge Holders.
Bays are clearly marked, with unobstructed access to each entrance of the hospital.
If you are a Blue Badge holder and wish to park in our main visitors car park, which is barrier controlled, please press the intercom when leaving to speak to a member of our security team. They may request to see your badge, so ensure you have it available when necessary.
Blue Badge holders are entitled to applying for a 12-month parking permit, which will allow you to enter and leave our car parks freely. They aren't required, as you can still access any of our car parking facilities without a permit, however you will still be required to show and display your Blue Badge whilst parked.
To apply for a Blue Badge 12-month parking permit, please fill out an application form. Completed forms must be sent, alongside a photo or photocopy of your Blue Badge, to rgh-tr.estates.access@nhs.net
Getting here using public transport
Plan your journey
The hospital is served by public transport and many of the services are direct.
You can use the Travel South Yorkshire Journey Planner to plan your route on public transport from your home to the Rotherham NHS Foundation Trust's sites. View the Travel South Yorkshire Journey Planner here.
Simply type the postcode into the destination box, along with your postcode and the time and date you'd like to travel. Then choose the 'Find Journey' button to get the relevant timetable.
Rotherham Hospital is situated on Moorgate Road, which forms part of the TransPenine Trail route. The National Cycle Network number for this route is 6. The main roads are accompanied by cycle paths, and there are bike sheds for visitors and patients alike to make use of. Please remember to bring a padlock, and chain, as the Trust bears no responsibility for personal property left unattended.
Shops and catering
Rooftop Restaurant
The Rooftop Restaurant is located on A level and provides a range of hot and cold food and drinks for visitors and staff.
The restaurant is open Monday to Friday.
Breakfast is served from 8am to 11am.
Lunch is served from 11.30am to 2pm.
Retail
There are several shops in the hospital's main entrance, including:
A florist
Boots
M&S Food
Stock Shop
Costa Coffee
Lloyds Pharmacy