Thrill-seeking mayor to skydive for Rotherham charities
The Mayor of Rotherham will be taking part in an engagement with a difference when he skydives from 15,000ft to support his chosen charities.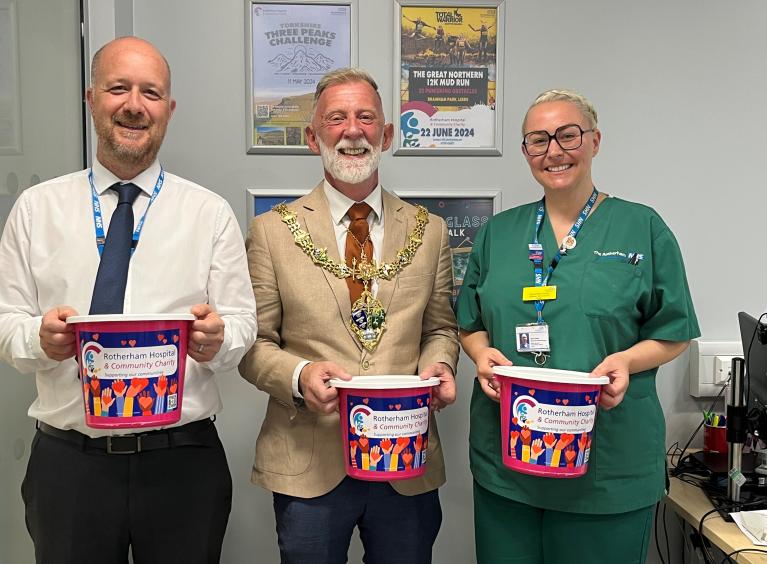 Councillor Robert Taylor will be swapping his Mayoral chains for a jumpsuit and parachute at Skydive Hibaldstow on Sunday 17 September, where he will be raising money for his chosen charities - Rotherham Hospital and Community Charity, the Common Lands of Rotherham (or Feoffee's) and Hope. 
"Everyone thinks I'm crazy but a skydive is something I've always wanted to do," Councillor Taylor said. 
"When I started my year as the Mayor of Rotherham I promised to throw myself into everything and experience as much as I could. True to my word, I'll now be throwing myself out of a plane and bizarrely, I'm really looking forward to it! Everyone tells me that it's such a memorable experience and I love the idea of the serenity of freefalling. I'm looking forward to experiencing that for myself. Please sponsor me if you can. It will definitely be my first and last skydive!"
Councillor Taylor will be joined at Skydive Hibaldstow by his daughter-in-law Rose Taylor, who will also split the funds she raises between the Mayor's charities. 
Daniel Hartley, Director of People at The Rotherham NHS Foundation Trust, Julie Newcombe and Samantha Inman, who both work in Sterile Services, will also take part, raising money for Rotherham Hospital and Community Charity, which is organising the challenge. 
Daniel, who joined the Trust in June, said: "I love the saying that you should do something you're scared of every day. I've saved my challenges up for a whole month! I wanted to start my time at the Trust in style and do something amazing to raise money for the NHS. 
"In 2013, my dad received a kidney transplant from a living donor - a friend he had been at university with in 1968! It saved his life and changed our family life forever and that made me want to work for the NHS and to raise money. 
"Our Chief Executive, Richard Jenkins, also set the bar high by doing a charity skydive last year so hopefully I shall follow in his footsteps and inspire others to have a go in future too."
Sam added: "It's amazing to see people doing sponsored walks, runs and tea parties but I wanted to aim higher and do a skydive! I'm nervous but excited about taking part. I think it will be mind over matter when it comes to looking over the edge of the plane.  I'm ready to make some memories and to raise some money!"
Taking part in a charity skydive allows those with a head for heights to experience the thrill of freefalling from 15,000ft, while also raising funds for the charity.
Tandem skydiving is one of the easiest and most popular skydives – perfect for divers who have never done it before. Participants simply need a 20-minute training session before they jump strapped to a British Parachute Association qualified instructor. They will do all the hard work, allowing skydivers to enjoy the thrill of flying through the clouds with the hum of the plane engine in their ears!
All the money raised for Rotherham Hospital and Community Charity will help to enhance the care provided by the Trust for patients and their families when they really need it the most. 
Rachael Dawes, Head of Fundraising, said: "We can't thank the Mayor of Rotherham and our incredibly brave and daring skydive team enough for taking such a leap faith for such wonderful charities in Rotherham. It's going to be an exhilarating challenge and a brilliant way to make memories, which will last a lifetime. We can't wait for the big day!"