Veteran Aware
We are proud to be a Veteran Aware accredited Trust. This means we are committed to support the Armed Forces community, both our staff and patients.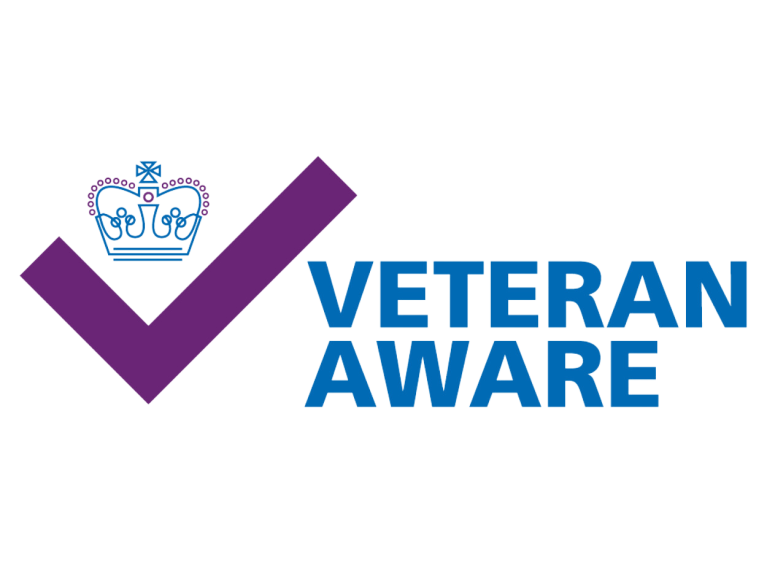 We are a member of the Veterans Covenant Healthcare Alliance. The Armed Forces covenant states that serving personnel, reservists, and their partners and dependents should not face disadvantage compared to other citizens when accessing health services.
Veterans (anyone who has served for at least one day in the Armed Forces) may be entitled to priority access to NHS care for health conditions associated with their time in service. 
Please inform a member of staff if you or your spouse/partner currently serve or have ever served in the UK Armed Forces so that we can best support your needs.
Look out for staff wearing a Veteran Aware badge or Veteran badge, who will have more training or experience with the Armed Forces Community.
Our promise
As part of our commitment to the Armed Forces Covenant, we will ensure that:
The Armed Forces community enjoy the same standard of, and access to, healthcare as that received by any other UK citizen in the area they live.
Family members retain their place on any NHS waiting list if moved around the UK due to the service person being posted.
Veterans receive priority treatment for a condition which relates to their service, subject to clinical need.
Those injured in service will be cared for in a way that reflects the nation's moral obligation to them, by healthcare professionals who have an understanding of the Armed Forces' culture.
We can put you in touch with, or refer you to, organisations and services best placed to help you with information, advice, and support. 
NHS OP Courage - Veterans' Mental Health and Wellbeing Service
OP Courage is for serving personnel approaching discharge, and for veterans. The service provides a range of treatment, from access to early support, to therapeutic treatment for complex mental health difficulties, and psychological trauma. Contact OP Courage or ask your GP, a charity, or someone else, such as a family member or friend, to do this on your behalf. 
T: 0800 652 2867
E: VTILS@cntw.nhs.uk
The OP Courage urgent care and support service is accessible by healthcare referral only.